chemical industry | animal welfare

Tuesday 15 November 2022, 13:00 - 18:00 (CET)
Practical information
When

Tuesday 15 November 2022, 13:00 - 18:00 (CET)

Where

Albert Borschette Congress Center, Rue Froissart 36, Brussels, Belgium


Languages

English
Description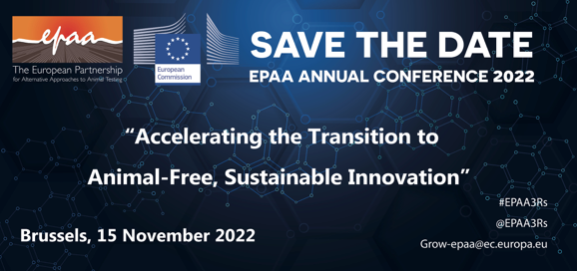 The 2022 Annual Conference of the Partnership for Alternative Approaches to Animal Testing took place on Tuesday, 15 November 2022.
The aim of this event is to give participants insight on the EPAA achievements in 2022, announce the EPAA 3Rs Science Prize winner, and to discuss challenges we still need to address to make animal-free sustainable innovation a reality within the EU.
Target Audience
EPAA members from industry and the European Commission, stakeholders from European and international institutions, academic, or research institutes, NGOs, national regulatory authorities, etc.
More Information
EPAA annual conference report 2022 
Presentations
EPAA: 2022 at a glance by Gavin Maxwell
Accelerating the Transition to Animal-Free, Sustainable Innovation by Vera Rogiers
Protecting People Making safety decisions with NAMs by Carl Westmoreland
Innovating chemical safety assessment: What does "Chemicals 2.0" look like? by Andrew_Worth
ReproTracker: Human Stem Cell-Based Biomarker Assay for Screening of Developmental Toxicity by Amer Jamalpoor
Animal-Free Innovation: drivers and vision by Emily McIvor
EU-ToxRisk Achievement by Bob van de Water
Animal-Free Innovation: Drivers and Vision International Perspective by Helena Hogberg
Towardsfast, competitive, sustainable innovation thanks to NAMs? by Marco Mensink
European Partnership for the Assessment of Risks from Chemicals by Pascal Sanders
Animal-free Innovation: Your Drivers and Vision by Sonja Beken